Products
Caustic Soda
Formula: NaOH
CAS No.1310-73-2
Hazard Class: 8
UN No. UN1823
Packing Group: II
H.S.CODE:28151100
Item

Specification

Purity(% min)

96

99

NaCl(% max)

0.8

0.03

Na2CO3(% max)

3.1

0.50

Fe2O3(% max)

0.008

0.00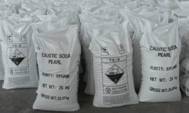 Packing: Pearls/Flakes packing in 25kg/1000kg/1200kg bags
Solid packing in 200kg/250kg iron drums.
Usage: widely used in metallurgy, petroleum,chemicals,textile,paper making,printing and dyeing, soap industry,pharmacy and food industry, metal,hardwares etc.
Storage & Transportation: due to its strong causticity,protective glasses and gloves must be applied during the using of caustic soda. The packing should be kept in good & dry condition,to avoid breakage,contamination,damp and acid substances.