Products
Calcium Carbide
Calcium Carbide
Formula: CaC2
CAS No.: 75-20-7
Hazard Class: 4.3
UN No.: 1402
Packing Group: II
H. S. Code: 28491000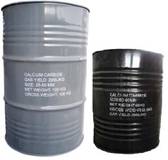 Items

Standard

Size

80-120mm

50-80mm

25-50mm

15-25mm

7-15mm

4-7mm

Gas Yield

295L/KG

295L/KG

295L/KG

285L/KG

270L/KG

260L/kg

PH3 (%max)

0.08

0.08

0.08

0.08

0.1

0.1

H2S (%max)

0.08

0.08

0.08

0.08

0.1

0.1
Packing: in 50kg/100kg/120kg iron drums.
Usage:
1) main raw material for producing acetylene gas.
2) desulfuring agent in steel manufacturing and used for metal cutting and welding.
3) To synthesize polyvinyl chloride(PVC).
4) production of calcium cyanamide (a nitrogen fertilizer)
Storage and transportation: Calcium carbide pail should be sealed. Stored in dry,cool and draughty place. Should separate from other combustible and explosive material.